A Caroline County deputy suffered serious injuries when the cruiser he was driving hit head-on by another vehicle on Ladysmith Road. According to reports from law enforcement, at approximately 5:30 a.m. Saturday morning, a pickup truck crossed over the yellow line and slammed head-on into the deputy's vehicle.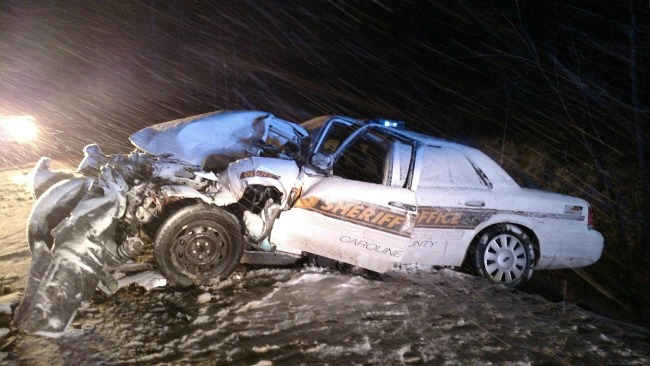 The 25-year-old deputy suffered a suffered a fractured left femur, a fractured right lower leg, and a fractured foot, along with soft tissue injuries. A spokesperson for the Sheriff's Department said the deputy had undergone surgery for the injuries he sustained in the crash and was expected to make a full recovery. He will be in the hospital for approximately one week and will then begin rehabilitation.
The driver of the pickup, a 30-year-old Ruther Glen man, was arrested at the scene of the crash and charged with DUI first offense, concealed weapon while intoxicated, and DUI maiming.
Our Virginia personal injury law firm wishes the deputy a quick recovery and, like the rest of the citizens of the state, we are grateful that the outcome of this DUI crash had a happy ending instead of a tragic one. Looking at the crash photo, it is amazing that both the deputy and the pickup driver survived what could have been a horrific crash.
Under Virginia law, when a driver is drunk and causes an accident where a victim is injured or killed, that driver can be charged with DUI maiming. The law states that a person driving under the influence "in a manner so gross, wanton and culpable as to show a reckless disregard for human life, unintentionally causes the serious bodily injury of another person resulting in permanent and significant physical impairment shall be guilty of a Class 6 felony." This means if convicted, the person charged with DUI maiming faces one to five years in prison and a fine of up to $2500.
Any criminal charges brought against a driver for a drunk driving crash is entirely separate from any personal injury claims that a victim may file against that driver for injuries sustained in the crash.
If you have suffered injuries in a DUI crash, contact a skilled Virginia car accident attorney to discuss what legal recourse you may have against the drunk driver for the pain and losses you have suffered. Our Va. DUI accident firm has successfully represented many clients who were injured in alcohol-related accidents and will fight to get you the compensation you deserve.