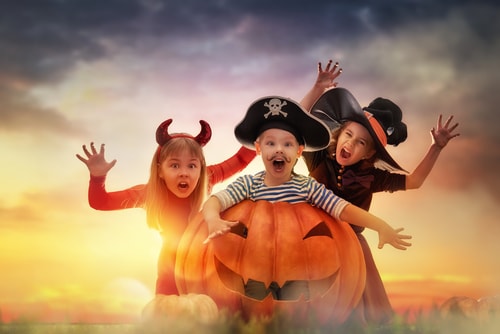 When you ask a child what their favorite holiday is, there is a good chance that he or she will answer Halloween, the one night of the year where a child can dress up and be anyone or anything they want to me, ring doorbells, and fill their "pumpkin" up with candy and other goodies. Here in Virginia, Halloween is so popular, that some of our communities have even earned national recognition and named one of the top ten on Nextdoor's 'Top Cities for Treats' list.
LEARN MORE
 
As excited as children about trick or treating, parents can find it to be particularly worrisome. Not only may they be concerned over making sure none of those treats have been tampered with and concerned with "stranger danger" that may be lurking, but parents also want to make sure their child does not sustain any injuries while they are out having fun.
There are steps parents can take to help keep them safe while trick or treating. Some of these include:
Make sure children are always accompanied by an adult.
Take routes that you and your children are familiar with. If you do venture into a new neighborhood, map the route out before leaving your home so you have some idea where you are walking.
Make sure your children know they are not to go into anyone's home or accept car rides from anyone, even if they know who the person is.
One important part of avoiding accidents while trick or treating is the costume your child is wearing. If they are wearing a costume, make sure it is flame retardant. The costume should fit well. Make sure it is not too long or have any hanging edges which could cause your child to slip, trip, and fall. Instead of wearing a mask, which can obscure vision, consider using makeup as part of your child's costume. Just make sure to do a patch allergy test first. As part of their costume, have your child carry glow sticks, flashlight, or wear a reflective vest.
If you are someone whose children have outgrown trick or treating, there are still steps you can take to help keep other children safe. One of the biggest threats of injury children are at risk for on Halloween is being hit by a car. In fact, according to national statistics, Halloween is one of the top three dangerous nights of the year for pedestrians.
It is critical for drivers to be especially vigilant on Halloween, watching out for all the little ghosts and witches who are extra excited as they go house to house and may forget about safety rules. Some of the steps drivers should take include:
Drive slowly during the hours that communities have set for children to trick or treat.
Keep your eyes on the road and on sidewalks, watching for pedestrians. Avoid any distractions.
Come to a complete stop at red lights and stop signs.
Allow children enough time to cross streets
If you do see a vehicle being driven recklessly, contact the local police immediately.
Contact a Virginia Car Accident Attorney
Unfortunately, no matter how safe we are, there is often someone else who isn't. If you or a family member has been injured in a vehicle accident, contact a Virginia personal injury attorney to discuss what legal recourse you may have against the at-fault driver.