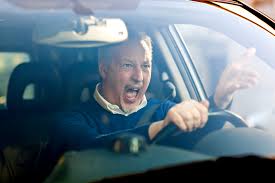 Most of the vehicle accident injury cases that happen are caused by the negligent act of a driver, however, these acts are not usually intentional. However, this is not necessarily the case with accidents that occur as a result of aggressive driving or road rage. Road rage is any form of aggressive driving that is deliberate and done with the intention of intimidating, frightening, or harming another driver.
Acts of road rage are classified as criminal charges because they are legally considered a willful and wanton disregard for the safety of others. Many jurisdictions consider road rage a form of assault and battery. Aggressive driving can result in a traffic violation citation.
RELATED CONTENT
Some of the more common acts of road rage are speeding, changing lanes without signaling, tailgating, and illegal maneuvers. Reactions from an aggressive driver can include rude gestures, honking of horns, shouting, and light flashing. Unfortunately, these reactions can also escalate to short-braking or trying to run the vehicle off the road.
Studies conducted by the American Automobile Association (AAA) have concluded that – since 2007 – there have been more than 10,000 car accidents that have resulted in almost 13,000 injuries caused by road rage violence. And in the past five years, road rage has been responsible for at least 300 deaths.
Punitive Damages
Under Virginia law, car accident victims are entitled to financial compensation for the losses their injuries have caused them. These losses include medical expenses, lost wages and benefits, pain and suffering, mental anguish, and more.
Victims of accidents caused by road rage may also be entitled to punitive damages. Punitive damages are the courts' way of penalizing the at-fault party for egregious or criminal behavior. Virginia law does cap punitive damages award at $350,000. Under the law, the at-fault driver's actions or behaviors must meet the following definition:
"Wantonly, oppressively, or with such malice as to evince a spirit of malice or criminal indifference to civil obligations."
If you see an aggressive driver, the best thing to do is to let them pass you. Pull over the road when it is safe for you to do so. In many situations, such as when you suspect the driver is under the influence, you may also want to call 911 and report the driver to local law enforcement.
Let a Virginia Car Crash Attorney Advocate for You
If you have been injured in a car crash caused by an aggressive driver, contact a seasoned Virginia car accident attorney to find out what legal action you may be able to pursue against the other driver for your pain and loss. Our Va. personal injury law firm has successfully represented many clients who have been injured in aggressive driving crashes and will fight to get you the compensation you deserve.