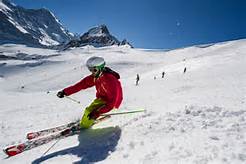 Interest in skiing and snowboarding has risen over the years. With accelerated interest in the exhilarating, and potentially dangerous, activity there have been an increased number of personal injury cases stemming from skiing and snowboarding accidents.
The injuries that can result due to snow sports can range from knee injuries, leg fractures, and wrist sprains, to the more traumatic injuries such as paralysis, a traumatic brain injury or even death.
In fact, a recent study by the CDC indicated that snowboarding alone counts for more injuries than any other outdoor activity.
The causes of skiing and snowboarding injuries tend to include:

Falls or collisions with objects such a trees, fences, barriers, or signs

Chair lift accidents

Collisions with other skiers or snowboarders

Accidents due to equipment failure
The foundation of a ski accident injury claim is establishing a breach of duty; namely, the duty to act reasonably towards one another as fellow snowboarders and skiers. Other duties including the duty to maintain the terrain and have it properly marked/designed and the duty of a skiing or snowboarding instructor to assess your skill level properly and not put you on a terrain that is beyond your level of ability. The relevant duty of care depends on the accident and who was potentially at fault.
Another avenue for establishing liability could potentially be a defect in the skiing/ snowboarding or lift equipment, in which you have a legal right to make a claim against the manufacturer who negligently put a product in the stream of commerce for consumption without it being reasonably safe to use for its intended, or foreseeable, purposes.
However, we have to be prepared for the common argument raised by defendants in these types of cases – the assumption of risk defense. This defense asserts that you, the plaintiff, assumed the risk of bodily injury by participating in a potentially dangerous activity. However, there are limits this rationale and there are conditions that are beyond what a person "signed up for", so to speak, which can overcome this defense.
What is crucial to know is that if you have been injured while skiing or snowboarding, it is very possible that this was due to the negligence of a third party. Whether there are conditions of the mountain that are overly dangerous or negligently maintained, or whether there was a simple "accident" with another skier/snowboarder, there is potential for liability to be correctly established.
It is monumentally important that the at-fault party responsible for your injuries be required to make you whole through financial compensation. The compensation available through a personal injury claim includes a recovery for any lost wages and compensation for the emotional and physical trauma you endured as a result of the accident. For these reasons, seek legal advice early after an accident.