An Introduction to Portsmouth, Virginia from Local Car Accident Injury Lawyers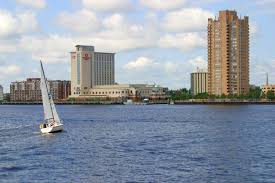 As Portsmouth, Virginia personal injury attorneys, we have been caught in the invariable traffic jams that occur in and around the Midtown Tunnel, Downtown Tunnel, I-264 and Route 17 since these are some of the busiest roadways in the Hampton Roads region.  Traffic is not only annoying but it puts drivers at a high risk of car wrecks as well. So what happens if you do get involved in a car accident in Portsmouth? Our Portsmouth personal injury lawyers know that an accident at any speed can cause serious injury. If you or a loved one is seriously hurt in an accident in or around Portsmouth, consider contacting our team of attorneys to discuss your legal rights. We offer free, confidential consultations at our Portsmouth office located at 355 Crawford Street, on the Seventh Floor.
Walking Tours
The city of Portsmouth is rich with history and the city provides a self-guided walking tour of Olde Towne that takes visitors to 45 sites in the historic district, about one mile total.  At the North end of the "Path of History" is a 3-acre park at the entrance to the nation's first Navy hospital. Located near the gate of the Naval Medical Center Portsmouth.  Unfortunately with so much foot traffic, accidents are bound to occur. 
Whenever a car crash occurs that involves a pedestrian, the personal injuries that result are usually severe or fatal. Personal injury claims and wrongful death claims are frequently made in accidents between automobiles and pedestrians, and our Portsmouth personal injury attorneys have handled many such cases.
Water Transport
There is a pedestrian ferry that crosses the Elizabeth River between Portsmouth and Norfolk and departs from High Street Landing and from North Landing for arrival at Waterside in Norfolk. Water taxis are also available and include any destination in Olde Towne Portsmouth and downtown Norfolk. Available seasonally, the Water Taxi also offers a 20-minute tour of the Portsmouth waterfront. Though every boat ride does not always end up being a joy ride. 
As Portsmouth personal injury attorneys, we see numerous boating accidents that result in injury or death. Common dangers on the water include fires, accidental drowning, loss of limbs, and electrocution.
If you or a loved one need information about our legal services, check out these informational articles and reports